Surgical Gown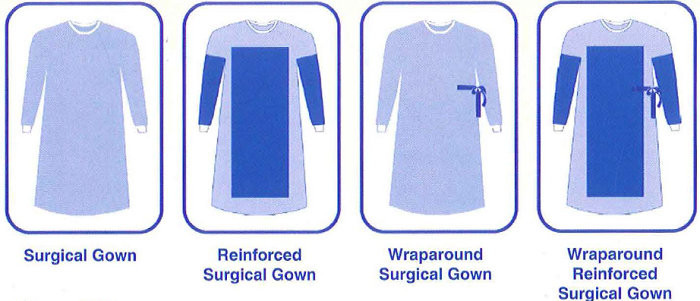 Material Types
SMMS fabrics is composed of two layers of spun bonded fabric and two layers of Melt blown fabric. With good tensile strength, high filtration and remarkable softness. It prevent and isolate dust particles, alcohol, blood,bacteria and virus.
Spunless non-woven material offer very high purity because they contain no binders or adhesive. The absence of chemical and thermal binding also produces superior softness, and breathable material. The fabricstreated to repel liquids and an excellent shield from bacteria & splashes. The fabrics do not produce allergenic or toxic response in human skin.The fabrics has superior resistance to tearing and maintains approximately 75% of its strength when wet.
Micro care fabric advanced technology is a layer of strong, thin microporous breathable film between two soft, cloth-like fabric layers, to allow vapour to pass easily through while keeping you cool and providing protection from blood and body fluids. Micro care offers excellent barrier against viruses causing infectious diseases. It's Levei-IV Gown.
| | | |
| --- | --- | --- |
| Code No. | Product Descriptions | Oty. |
| PO 811 -PO 814 | Surgical Gown | 10 |
| PO 821-PO 824 | Reinforced Surgical Gown | 10 |
| PO 831- PO 834 | Wraparound Surgical Gown | 10 |
| PO 841 -PO 844 | Wraparound Reinforced Surgical Gown | 10 |
OUR PRODUCTS MANUFACTURED UNDER
CЄ 2179, ISO 9001 : 2008 & ISO 13485 : 2003 Certified.
All products are manufactured in class 100K clean rooms.
Meets all requirements of "EN 13795" standard.
Pre Assigned lab to test the fabrics.
In house EO sterilization, provide guaranteed sterility.
Packed in Medical grade pouches.
Complete traceability of production process till dispatch.
Complete technical support in terms of draping guide, test reported and usage instructions.