Spunlance Gauze Swab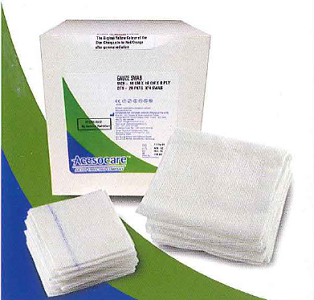 Acesocare Spunlace Gauze Swabs are made of spunlace non-woven fabric i.e. highly absorbent, fine in quality and free from chemical whiteners. They are well suited for a variety of applications: wound dressing general
cleaning, minor prepping, wound packing and debriding. An economical
dressing in a broad range of sizes and plys.
Plain and X-Ray Detectable.
Highly Absorbent.
Sizes: 5cm x 5cm, 7.5cm x 7.5cm and 10cm x 10cm.
Ply:8,12 and 16.
Available in EO or Gamma Sterile Packs.
Available in Non-Sterile Bulk Packs of 100's.
Available in Non-Sterile Bulk Packs of 100's .
OUR PRODUCTS MANUFACTURED UNDER
CЄ 2179, ISO 9001 : 2008 & ISO 13485 : 2003 Certified.
All products are manufactured in class 100K clean rooms.
Meets all requirements of "EN 13795" standard.
Pre Assigned lab to test the fabrics.
In house EO sterilization, provide guaranteed sterility.
Packed in Medical grade pouches.
Complete traceability of production process till dispatch.
Complete technical support in terms of draping guide, test reported and usage instructions.