Sterile
Self Adhesive Drape
| | | | |
| --- | --- | --- | --- |
| Code No. | Product Descriptions | Size | Qty. |
| PO 2001 | Self adhesive drape | 50x50 cm | 60 |
| PO 2002 | Self adhesive drape | 50x 75 cm | 60 |
| PO 2003 | Self adhesive drape | 75x 75 cm | 60 |
| PO 2004 | Self adhesive drape | 75 x 100 cm | 40 |
| PO 2005 | Self adhesive drape | 100 x 150 cm | 40 |
| PO 2006 | Self adhesive drape | 150 x 175 cm | 40 |
Self adhesive Fenestrated Drape
| | | | |
| --- | --- | --- | --- |
| Code No. | Product Descriptions | Size | Qty. |
| PO 2011 | Self adhesive fenestrated drape with open 8 cm | 50x50 cm | 60 |
| PO 2012 | Self adhesive fenestrated drape with open 8 cm | 50x 75 cm | 60 |
| PO 2013 | Self adhesive fenestrated drape with open 10 cm | 75x 75 cm | 60 |
| PO 2014 | Self adhesive fenestrated drape with open 10 cm | 75 x 150 cm | 40 |
| PO 2015 | Self adhesive fenestrated drape with open 10 cm | 100 x 150 cm | 40 |
Epidural Drape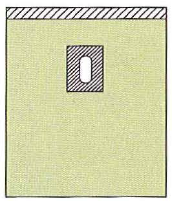 | | | |
| --- | --- | --- |
| Code No. | Product Descriptions | Oty. |
| PO 2021 | Epidural Drape Size 75 x 85 cm | 60 |
OUR PRODUCTS MANUFACTURED UNDER
CЄ 2179, ISO 9001 : 2008 & ISO 13485 : 2003 Certified.
All products are manufactured in class 100K clean rooms.
Meets all requirements of "EN 13795" standard.
Pre Assigned lab to test the fabrics.
In house EO sterilization, provide guaranteed sterility.
Packed in Medical grade pouches.
Complete traceability of production process till dispatch.
Complete technical support in terms of draping guide, test reported and usage instructions.