Spunlace Laparotomy Spounges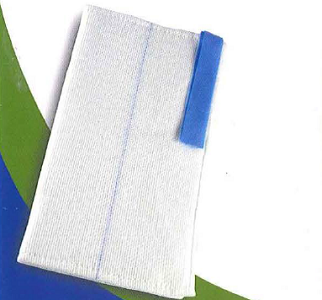 Acesocare Spunloce Laparotomy sponges are absorbent pads used in abdominal surgery. They contain layers of non woven fabric stitched together with sealed edges to prevent lint residue. Absorbs more fluid than ordinary abdominal pads. Acesocare spunlace Lap sponges are free from foreign matter and optical whiteners.
Plain & X-Ray Detectable.
Highly Absorbent.
Sizes: 25cm x 25cm,30cm x30cm, 25cm x40cm & 45cm x 45cm.
Ply: 4,6,8 & 12.
Available in EO or Gamma Sterile Packs.
Available in Non-Sterile Bulk Packs.
Available in as per your sizes & dimension.
OUR PRODUCTS MANUFACTURED UNDER
CЄ 2179, ISO 9001 : 2008 & ISO 13485 : 2003 Certified.
All products are manufactured in class 100K clean rooms.
Meets all requirements of "EN 13795" standard.
Pre Assigned lab to test the fabrics.
In house EO sterilization, provide guaranteed sterility.
Packed in Medical grade pouches.
Complete traceability of production process till dispatch.
Complete technical support in terms of draping guide, test reported and usage instructions.